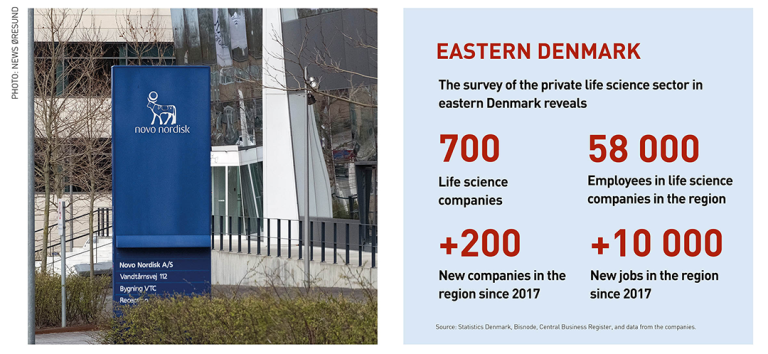 The Life-Science Industry in Denmark: Why is Denmark the Leading Life-Science Cluster in Europe?
The life science sector is a Danish strength and is continuously growing. Eastern Denmark and Medicon Valley (which includes parts of Sweden) are leading clinical research studies.
In this article, we'll dive into why Denmark is the heart of life science research in Europe.
How big is the life science sector in eastern Denmark?
According to Øresundsinstituttet's survey around 58.000 people are employed in approx. 700 private life science companies just in eastern Denmark. This means that the life science sector is one of the biggest industries in eastern Denmark, employing more people than the IT-sector.
Since 2017 the life science sector has expanded with more than 200 new companies thus creating more than 10.000 new jobs. Most of these jobs were created in Copenhagen, Gladsaxe, and Ballerup, which are the cities in eastern Denmark with the biggest number of life science employees.
Copenhagen, Gladsaxe, and Ballerup are home to some of the largest life science companies; Novo Nordisk and Leo Pharma just to mention a few.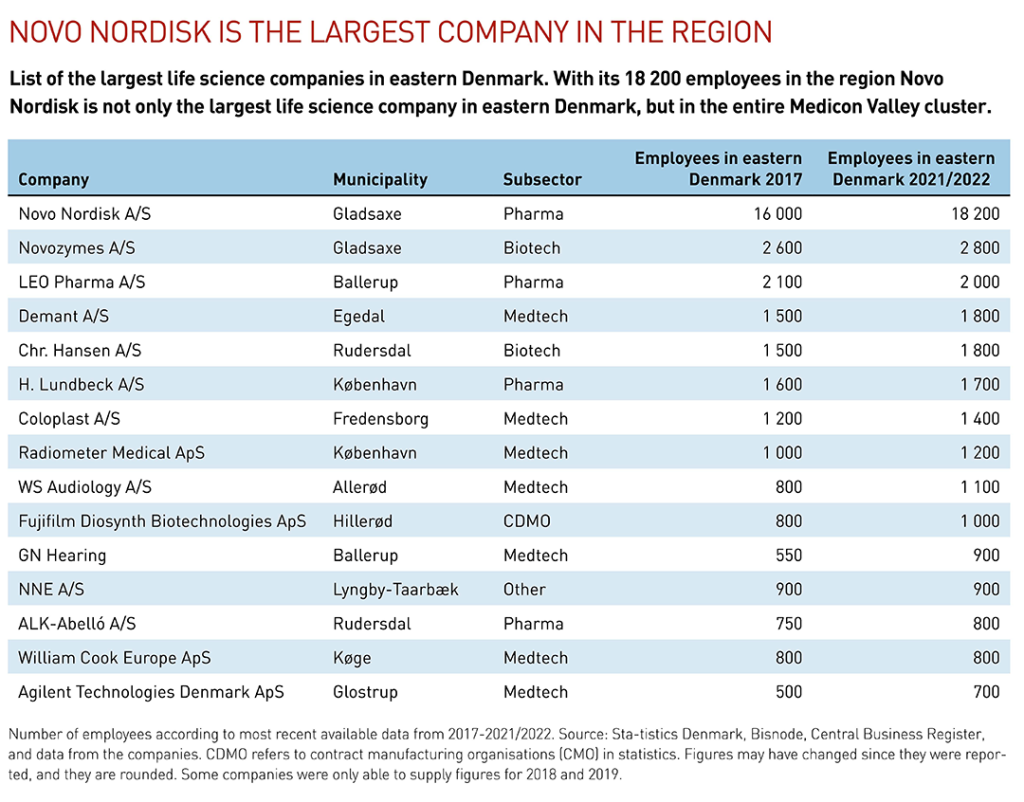 Which subsectors are the biggest in eastern Denmark?
Half of the life science sector in eastern Denmark is employed in pharma, making this the biggest sector when it comes to employees. But the subsector with the largest number of companies in medtech, with 231 companies in eastern Denmark. The medtech sector has grown 25 % since 2017, resulting in the fact that every third life science company in eastern Denmark is a medtech company.
Still, new companies are forming and in previous years most of the new life science companies working in eastern Denmark are biotech companies. A total of 208 new biotech companies have been formed since 2017.
The life science sector has grown broader due to new technologies and treatment approaches thus including more differentiating companies. E.g., companies in IT-development and areas where food and health overlap. Despite the sector growing broader the traditional subsectors such as pharma, biotech, medtech, CRO, and CMO still employ 92 % of the jobs in the life science sector of eastern Denmark.
Why is eastern Denmark a good location for my life science company?
There are several reasons why eastern Denmark is a great place for running a life science business. One of the reasons being the fact that you'll be surrounded by some of the leading companies within the industry giving you great opportunities for networking.
Furthermore, being in the middle of a life science cluster makes is easier to attract highly qualified labor. The three municipalities in eastern Denmark; Copenhagen, Gladsaxe, and Ballerup are clear examples of this since employment within life science in these cities has grown significantly over the past five years.  
Life science is a local profile and strength in Eastern Denmark and therefore politicians and the public want to help develop the sector and make Denmark's industry position even stronger. This means that the development of the life science sector in eastern Denmark has not come to an end at all. There is optimism for the future growth and many project are being launched.
How will the growth of the life science sector in eastern Denmark continue to improve?
As life science cluster in eastern Denmark continues to grow the main concern is recruiting relevant and qualified employees. Especially scientific and technical qualifications are needed. Companies in the life science industry are emphasizing the importance of educating more professionals such as pharmacists, lab technicians, chemists, molecular biologists, engineers, production technicians, and IT-specialist.
Luckily for the life science industry admissions to educations within these fields in Denmark have increased steeply over the past years.
Although labor from Denmark is great it's not enough, which is why employees from abroad are important for the life science sector in eastern Denmark. Niche expertise and experience is difficult to find, and many times it's necessary to hire from abroad.
Copenspace's position in the life science cluster of eastern Denmark
We're proud to be in the heart of the life science industry surrounded by many of our potential customers. We are working out of our office in Ballerup making us neighbors to some of the biggest life science companies in Denmark.
Being in the middle of the life science cluster is important for us to follow the development of the industry and the companies within. We also follow the local projects so we're able to help developing new research facilities which is vital for this growing industry.
Conclusion
The life science cluster in eastern Denmark is leading due to its many companies and employees here, but also due to the increasing development and the research results and products coming from this area.
The life science cluster in eastern Denmark is respected internationally. The statistics mentioned in this article speak for themselves: the life science industry has chosen Denmark as the preferred and thus leading country in Europe for clinical studies.