Unique solutions for world-class office environments
Copenspace offers unparalleled design and manufacturing expertise for all your office furniture needs. Our team is dedicated to providing you with the highest quality custom installed benching, wall timber cladding, ceiling timber cladding, and reception areas that are tailored to meet your specific requirements.
At our company, we pride ourselves on our extensive knowledge and experience in the design and manufacture of custom office furniture solutions. Our team consists of highly skilled professionals who are experts in their respective fields, and they work tirelessly to deliver exceptional results that exceed your expectations.
Interested In Our Services?
Request a call-back from a specialist
We offer a complete A-Z service, from design consultation to manufacturing and installation, ensuring that you receive the best possible solution for your office space. Our goal is to provide you with furniture that is not only functional and durable but also aesthetically pleasing and reflective of your company's brand identity.
Quality materials and excellent workmanship
We understand that every client's needs are unique, and that is why we work closely with you to create a custom design that perfectly fits your office space and your specific requirements. Whether you need custom installed benching for your workstations, wall timber cladding to enhance the interior design of your office, ceiling timber cladding to create a warm and inviting atmosphere, or a reception area that impresses clients, we have the expertise to make it happen.
At our company, we use only the finest materials and the latest manufacturing techniques to ensure that our custom office furniture solutions are of the highest quality. We take great pride in our workmanship, and our attention to detail ensures that every piece we create is not only beautiful but also functional and long-lasting.
When you choose us for your custom office furniture needs, you can rest assured that you will receive a complete service that is tailored to your specific needs. From initial design consultation to final installation, we are here to ensure that your project is a success. Contact us today to learn more about our custom office furniture solutions and how we can help transform your workspace.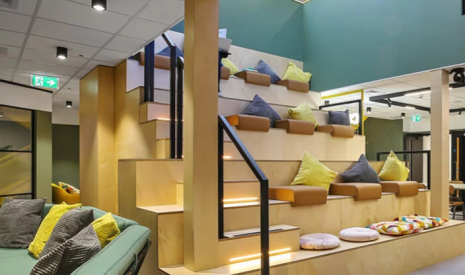 Delivery times vary depending on the size and complexity of projects. Typically, the design phase takes 1-2 weeks and the production phase takes 3-5 weeks. 
Usually we work with one of our Denmark-based manufacturing partners. However we also have some manufacturers based in UK and Europe who specialise in certain furniture solutions.
Custom office furniture is often a difficult part of the project for us. It is often difficult for us to find a supplier who can manufacture the custom furniture correctly first time, on time. Copenspace's team have been great at briding the gap between our team and the manufactureres, resulting in a successful solution every time.