Top 10 Critical Areas to Consider in Laboratory Design
The laboratory is an important part of research and small-scale production in many sectors. Through painstaking research and development, organisations are achieving remarkable breakthroughs. The pace of biotech development is currently increasing exponentially, as new technologies and treatment avenues are explored.
Designing a new laboratory (or making changes to an existing laboratory design) is therefore a very important task for life science and other research organisations. Usually, such a project includes a large team of architects, engineers, specialists, and consultants, each with their particular field of expertise. For those looking to begin such a project, we have covered a list of what we believe are the top 10 critical areas that should be addressed.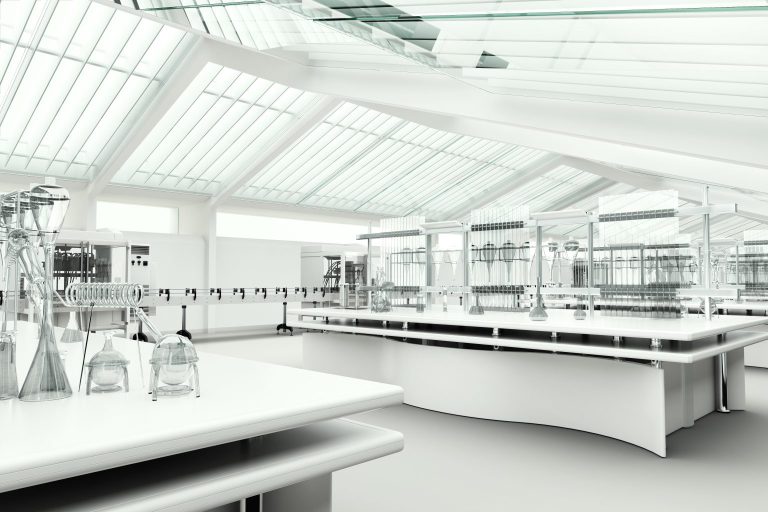 1. Include all stakeholders in the initial design phase
Although input can be given from stakeholders at any point in the design process, its definitely an advantage to get as much input in the early stages. Interviews with all stakeholders at various levels and functions of the organisation ensures that feedback is gained and information on requirements can be included in the design.
While input from the individual teams and levels is important, the input must also be debated between stakeholder groups, including the following groups: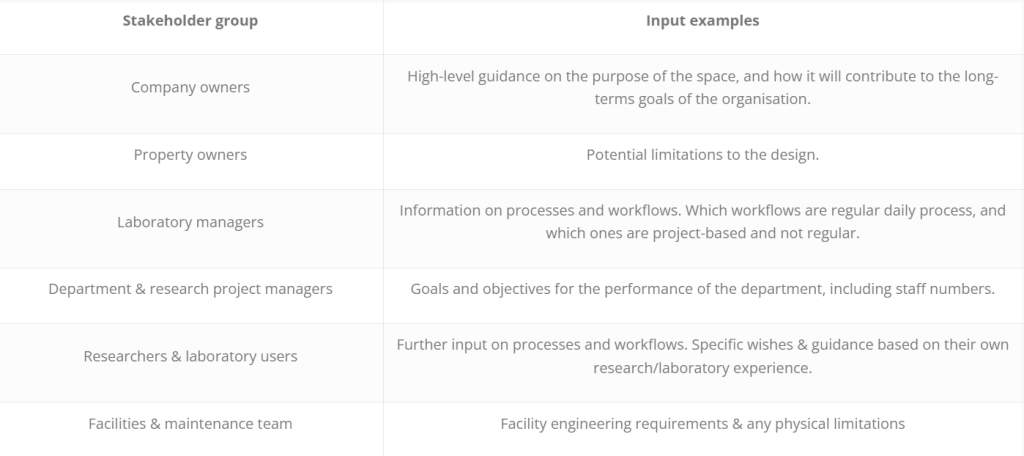 2. Consider the need for flexible benching
Today's research organisations, especially in the biotech sector, are often posed with changing goalposts due to external / market factors. This can result in changing workflows & staff assignments to these workflows.
A good solution to this challenge is to construct either a part of the laboratory or the entire laboratory using flexible benching. Various solutions to flexible laboratory benching are available, and normally they are on wheels so that they can be moved very easily. Accompanying this is an advanced system for gas, electricity and any other supplies that can be 'unplugged' to allow the workstation to be moved.
However, this functionality normally always comes with a 25-40% cost increase on fixed laboratory benching & cupboard systems. This increase in cost is not only due to the cost of the mobile workstations themselves but the need for increased supplies and advanced connection systems in the floors and/or ceiling.
Another consideration is the stability of such mobile workstations. Certain research tasks require highly stable and vibration-free surfaces such as microscopic analysis and weighing tasks. While mobile laboratory workstations have advantages, this is one of the clear disadvantages and should be taken seriously into consideration when designing the laboratory.
3. Plan the workflow and understand common process
A laboratory workflow plan includes a chronological list of tasks or processes, and the human and material resources required to complete the tasks. In larger, high-throughput laboratories, several of these workflows may be performed simultaneously, and the material resources (equipment, workstations etc.) can quickly become a constraint. By completing this analysis early in the laboratory design process, issues can be addressed which will greatly improve both the working environment for researchers and the throughput of the laboratory generally.
An optimised laboratory design will minimise movement, thus creating lean workflows. The following work cells can be used in laboratory designs to enhance productivity:
U-format: This arrangement of benching means that operators can access multiple workstations with minimal movement. It also allows for a single operator to complete a full workflow from the entrance to the exit point.
Z- or S-format: Although seldom used, this format can provide great solutions for shared equipment and multiple focus points
T-format: This layout can be beneficial for manufacturing processes with multiple raw material inputs
4. Analyse chemical storage needs
If storage requirements for chemicals and other hazardous products is not carefully assessed, this can result in unsafe practices, including storage in unsuitable locations such as worktops. A wide range of chemical storage cabinets are available from the main manufacturers of laboratory furniture, including solutions with inbuilt ventilation to provide negative pressure in the cabinet.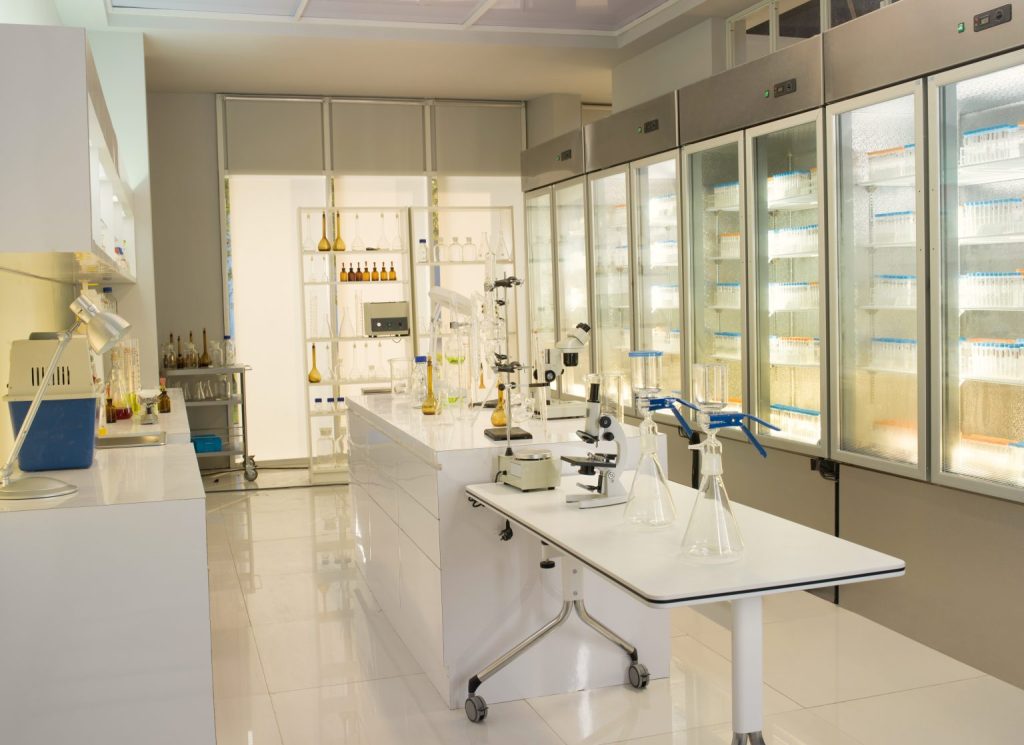 5. Consider future use and growth
Given that a laboratory is normally designed to function many years to come, the size and the layout of the laboratory is a critical factor. Many laboratories & clean-room areas turn out to be inadequate in several areas: Inadequate benching & surface area, inadequate storage space, inflexibility – all which limit the use of the lab and prevent its use from growing.
To avoid this situation, the feedback of laboratory operators should be carefully considered, together with the workflow requirements. Metrics can be established for the space required for various workflows, and extra redundancy can be calculated into the laboratory to allow for a given percentage of future growth.
6. Analyse material requirements, especially work surfaces
Choice of materials used in a laboratory play a very important part in ensuring a long lifetime. Although this may sound obvious, our visits to laboratories show a surprising number of instances where wear & damage to the equipment, and consequently expensive repairs could have been avoided, had the correct materials been used.
A common area for consideration are the worktops, where several key factors must be considered, including heat, corrosive resistance, impact resistance and laboratory classification. A wide range of different worktops types are available, ranging from the budget option of high-compression melamine-faced chipboard to the more advanced options of solid-grade laminate and ceramic worktops.
Read more about different worktops in our blog about safe labs here.
Wall cupboards and base cupboards are also available in various materials including melamine-faced chipboard (MFC) and solid-grade laminate. A middle road can also be achieved using MFC carcases with solid-grade laminate doors to protect against impact and contamination.
7. Agree on the complete equipment list early in the process
When planning for a laboratory it is crucial to involve the client in the list of equipment needed in the lab. This list should be inspected carefully as it is fundamental to the lab layout. The equipment list will determine design issues such as:
Spatial planning of the lab
What type of inventory should be in the lab and what type of equipment storage is needed
How the electrical installations should be installed and what type of backup power requirements are needed
How the plumbing should be integrated and what and how much extraction/ventilation is required
The client's list of equipment should be used as a guideline and a tools through out the building process to ensure that the laboratory lives up to the intended use.
8. Consider a BMS for ventilation control
Laboratory ventilation should be thoroughly considered and is often impacted by the classification of the lab, as well as the equipment in the lab. Considering the equipment's generation of heat is substantial for the wellbeing of the laboratory staff, as highly specialized dry lab equipment often generates a lot of heat.
Not only is it important for the wellbeing of the laboratory staff but it's also important for safety because of the risk of equipment overheating which will have a negative impact on the life and maintenance of the equipment.
In many projects it's relevant to consider a BMS (Building Management System) for ventilation control. A BMS can be integrated in the building and will enable the users to gain a full overview of operations and programmable air handling units.
A BMS is essentially a control system that connects all components of the ventilation systems digitally and provides one central point of control over the whole ventilation system. The air handling units and other components can run automatically but can be monitored and tracked using the BMS network.
9. Work closely together with specialised engineers and consultants
It might seem obvious that specialised personnel are needed to design and build a laboratory. To obtain a great result you'll need well-coordinated drawings from the design phase, where lab planners, architects and engineers have worked together on planning and mapping the laboratory out.
Consequences of not cooperating between the professional group can be damaging for the laboratory result. Examples of this could include wall-mounted piping interfering with shelving or electrical devices, or even worse – a workplace that is not in compliance with work environment regulations
10. Be clear about the importance of the visual appearance
Workspaces and laboratories are more than just physical spaces. They are social environments that should form the framework of a culture in which people build relationships and spend time. The visual appearance of the laboratory can at best support a good work environment, effective workers, a creative learning environment, and many other advantages.
The staff spends a lot of time in the laboratory and how the space looks and feels plays a key role in the overall performance of the organization. The client plays a big role in the outlines of the visual appearance and should together with the involved professional groups ask themselves how the lab should look and feel to support their company culture in the best way.
Ready to contact us about your project?
Once filling out our contact form, we will be in touch within 24 hours (hopefully sooner) to have a chat about your project. We are here for you, and we will work to your schedule and your requirements. The next steps normally include a face-to-face or zoom meeting to find out how far you have gotten with the project, and how we can help you progress.